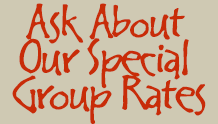 • Families
• Friends
• Camps
• Co-workers
• Clubs
• Scouts

• Churches
Whitewater rafting is the perfect outdoor activity for groups — three hours of exhilarating recreation that builds great camaraderie. And because the Nantahala is non-threatening for novice paddlers, it's a group activity that everyone can enjoy.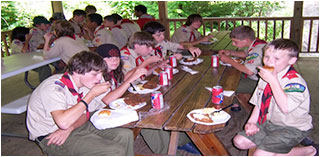 Picnic pavilion — Catered Meals
River rafting builds ravenous appetites. And after rafting the Nantahala, groups of 20 or more can continue the camaraderie with a picnic at our spacious pavilion.
You can use our gas grills, or we can cater fried chicken or barbeque meals for $7.00 per person. The portions are generous and the atmosphere is cool and unhurried. At least three days advance notice is required.
A bunk house is located on the lower floor below the picnic shelter for those desiring to spend the night. We can accommodate up to 24 in the bunk house which is subdivided into four rooms with comfortable bedding for six in each room. The bunk house also features a restroom.